26 James Street, Mogo
Rates
: $115.00 to $225.00
Check In
: 2:00 pm .
Check Out
: 10:30 am
Enjoy accommodation with a difference on the 13 acre property of the Original Gold Rush Colony in Mogo on the South Coast of New South Wales.
Each cabin is self-contained and can be rented as either one or two bedrooms, each with their own en suite. Pet friendly and ASA approved wheelchair accommodation is available.
The bunkhouses surround a huge camp kitchen and each bunkroom has an en suite bathroom.
Flexible accommodation with many activities available on-site, for solo travellers, couples, family holidays, school camps and group bookings.
They offer accommodation in a natural bush setting – 200 metres from Princes Highway, two kilometres from Mogo Zoo and just 10 kilometres south of Batemans Bay – and are off the highway, quiet and friendly location, with all the comforts of home.
t:
4474 2123
e:
info@goldrushcolony.com.au
w:
www.goldrushcolony.com.au
Add to Adventure
Facilities
Barbeque, Camp Kitchen, Carpark, Communal Refrigerator, Conference/Function Facilities, Laundry, Non Smoking, Pet Friendly – Enquire, Swimming Pool, Tour Desk,
Activities
Birdwatching, Swimming, Walk,
Budget Bunkroom
The budget bunkrooms can sleep up to eight people each. All have ensuite bathrooms. Linen is available at an extra cost of AUD7.00 per set or included in some packages. Quality, affordable accommodation for backpackers, friends and families on a budget. The Bunkhouses each have two bunkrooms and are purpose built for travellers, school camps and large groups. The layout of the bunkhouses is perfect for groups as they surround the huge camp kitchen with its barbecue, cooking facilities and communal fridge. The camp kitchen becomes a meeting point and place for social activities.
Balcony, Blankets, Linen not supplied
Settlers Cabin
The Settlers Cabins provide clean and comfortable accommodation for a relaxing stay. Each with two bedrooms and two bathrooms the Settlers Cabin sleeps up to nine people.
Air Conditioning, DVD/Bluray Player, Private Bathroom, Refrigerator, Microwave, Tea/Coffee making facilities, Television
Deluxe Miners Cabin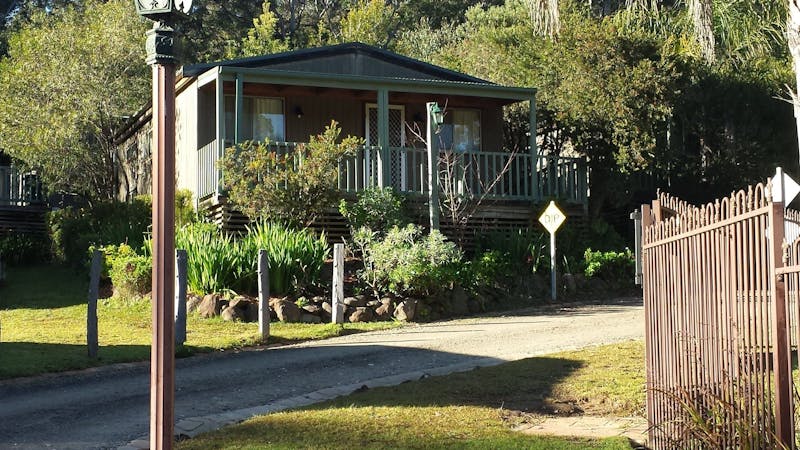 Deluxe Miners Cabins have two bedrooms and two bathrooms and can sleep up to nine people. The cabin has a separate living area and features two televisions, microwave, jug, toaster, refrigerator and all linen is provided.
Balcony, Refrigerator, Hairdryer, Lounge/Dining Area, Microwave, Tea/Coffee making facilities, Television
Executive Suite
Executive Suite has one bedroom with en suite and can sleep up to four people. The suite has a queen bed and double bunks or queen bed and single. All linen is provided, plus there is a television, microwave, refrigerator, jug, toaster and separate living area.
Refrigerator, Microwave, Tea/Coffee making facilities, Television